A quick and easy cake for fall, don't expect many leftovers! See the list here for which kind of apples are great for baking.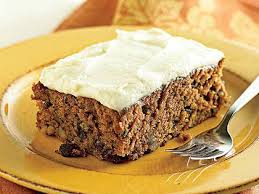 Applesauce Cake
Cake:
2 cups all-purpose flour
2 teaspoons baking powder
½ teaspoon baking soda
½ teaspoon salt
1 teaspoon cinnamon
½ teaspoon ground ginger
1 stick unsalted butter, softened
1 cup packed light brown sugar
1 teaspoon pure vanilla extract
2 large eggs
1 ½ cups cinnamon applesauce
½ cup walnuts chopped walnuts
Frosting:
5 oz cream cheese softened
3 tablespoons unsalted butter, softened
¼ teaspoon pure vanilla extract
1 cup confectioners sugar
½ teaspoon cinnamon
Preheat oven to 350°F with rack in middle. Butter a baking dish.
Cake:
Whisk together flour, baking powder, baking soda, salt, and spices.
Beat butter, brown sugar, and vanilla with an electric mixer at high speed until pale and fluffy, 2 to 3 minutes. Add eggs 1 at a time, beating well after each addition, then beat in applesauce. At low speed, mix in flour mixture until just combined, then stir in walnuts.
Spread batter evenly in pan and bake until golden-brown and a wooden pick inserted into center comes out clean, 40 to 45 minutes. Cool in pan 15 minutes. Run a knife around edge of cake to loosen, then invert onto a plate. Reinvert cake onto a rack to cool completely.
Frosting:
Beat cream cheese, butter, and vanilla with an electric mixer at high speed until fluffy. Sift confectioners sugar and cinnamon over cream cheese mixture, then beat at medium speed until incorporated.
Spread frosting over top of cooled cake.