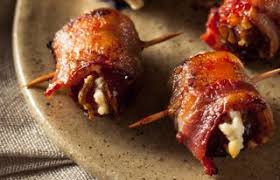 Bacon Wrapped Stuffed Dates with Maple Glazed Walnuts and Boursin Cheese
Easy to make ahead of time and bake off at the last minute, make extra they go fast!
Maple Glazed Walnuts
½ cup maple syrup
1/8 teaspoon sea salt
2 cups walnut halves
For the Dates
1 package of dried Medjool Dates, 16 oz.
1 12 oz. package of bacon, slices cut in half widthwise
4 oz. package of Boursin cheese
Preheat the oven to 350° and line a baking sheet with parchment paper.
Mix the maple syrup and salt together, add the walnuts and stir until coated.
Spread the nuts on the baking sheet and bake for 12 - 15 minutes or until the glaze is bubbly and coats the walnuts well. Remove from oven and let cool.
Turn the oven up to 425° and line a baking sheet with a new piece of parchment paper.
Slice dates lengthwise and remove pits.
Scoop a small amount of Boursin cheese with a spoon and fill the date with the cheese, press a glazed nut into the cheese.
Wrap dates with a slice of bacon, and secure with a toothpick to hold bacon onto date. Place the dates on the parchment on their side and bake for about 7-8 minutes or until browned on the bottom and turn to the other side continue to cook for another 7-8 minutes or until the bacon is cooked and a little crispy, and the cheese is slightly melted.
Let cool and serve warm or at room temperature.
Photo: La Tienda