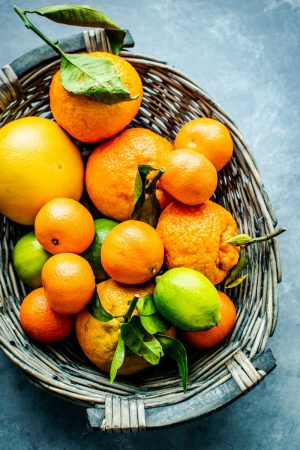 Nutritious and healthy we all know that citrus fruits are high in vitamin c which helps your immune system; they are loaded in plant compounds that have various health benefits, including anti-inflammatory and antioxidant effects. They contain B vitamins, potassium, phosphorous, magnesium and copper as well. A versatile fruit they can be made into jams, jellies, drinks and savory or sweet dishes or just eaten out of hand. Try this Roasted Chicken with Lemon and Herbs along with Melissa's Dutch Yellow Potatoes for a tasty, comforting dinner.
Lemon Herb Roasted Chicken With Dutch Yellow Potatoes®
1 Meyer lemon, zested and juiced
2 tablespoons unsalted butter, softened
½ teaspoon minced fresh thyme
Sea Salt and freshly ground pepper
1 large onion, rough chopped
2 small carrots, rough chopped
1 stalk celery, rough chopped
4 sprigs Italian flat leafed parsley
1 bag Melissa's Dutch Yellow Potatoes®, cut in half
½ cup chicken stock
Preheat the oven to 425° and place the rack in the lower third of the oven.
Mince the lemon zest and mix with the butter and minced thyme.
Rinse and pat the chicken dry. Slide half of the butter mixture under the skin and the rest over the chicken, season with salt and pepper.
Scatter the onion, carrots, celery and parsley over the middle of a roasting pan*. Place the chicken on top of the vegetables and place the potatoes around the chicken.
Roast for approximately 50 minutes, using a probe type or instant read thermometer placed into the thigh and it should read 165° - 175°. Let the chicken rest in the pan for 15 minutes. Remove to a cutting board, remove vegetables from pan and place the pan over a medium high heat. Add the stock and scrape any bits from the bottom of the pan, reduce the liquid to about ½ and serve along with the chicken.
Use a roasting pan with no more than 2" sides