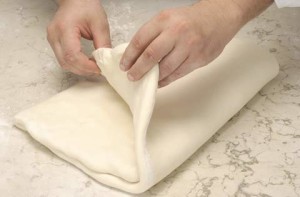 Use this delicious puff pastry to make these quick and easy
Smoky Ham & Gruyere Cheese Empanadas.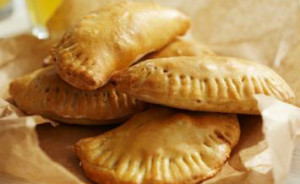 I learned this recipe from Nick Malgieri, it takes about 15 minutes to make once you learn the technique. Keep it in your freezer for easy access to sweet and savory dishes.
1 1/4 stick of cold unsalted butter
1/4 cup ice water
1/2 teaspoons salt
1 cup flour*
Cut 1 stick of butter into ½ - to ¼ " dices, place on a plate and refrigerate.
Measure the water and stir in the salt to dissolve. Set aside.
Coarsely dice the remaining ¼ stick of butter. Place the flour in the work bowl of a food processor fitted with a metal blade. Add the ¼ stick of butter and pulse until the butter is absorbed—about ten to twelve 1-second pulses.
Add the chilled butter and pulse once or twice to distribute. Add water and salt mixture and pulse repeatedly, until the dough forms a rough ball—do not over process. (I have found with this method the dough doesn't form much of a ball, do not add extra water, just continue with the recipe and it will come together easily).
Invert the mixture onto a floured work surface or rolpat. Remove the blade and press the dough into a rough rectangle.
Flour the dough and press (don't roll) it with a rolling pin to flatten. Move the dough, making sure there is still flour under it to prevent it from sticking, and give the dough a 90° turn. Press again.
Again making sure that the surface and the dough are adequately floured, roll the dough until it forms a rectangle about 15 x 24".
Fold the top long edge over the middle section, and then fold the bottom edge over that to make 3 equal layers. Roll the dough up like a jelly roll from one of the short edges. Use the palm of your hand to flatter the dough into a rectangular shape, about 6 x 10" and about 1" thick.
Refrigerate for at least 1 hour before using or the dough can be stored in the refrigerator up to 2 or 3 days or freeze up to 3 months.
*4 - 1/4 ounces if using King Arthur Flour, which I prefer, or use the scoop & sweep method.