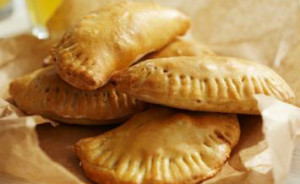 Another quick and easy appetizer from the pantry, the refrigerated pantry that is. Make ahead, freeze and cook as many as you like. I made these pastries using a 3″ cutter and fold them over to look like half moons. You can make them round, square, make them larger or smaller, whatever your needs might be.
Try and get puff pastry that is made with real butter for a better flavor and defrost it in the refrigerator. The trick to working with puff pastry is to keep it as cold as possible, if it becomes sticky, put it back in the refrigerator until it firms up. If you don't have time to freeze the pastries before baking, let them rest and chill up in the refrigerator while your oven is preheating.
(If you'd like to try your hand at making Quick Puff Pastry at home try this recipe~it's easy! Just start the day before)
Make extra, these are tasty treats that will keep for up to 3 months in the freezer.
Happy New Year!
Smoked Ham and Gruyere Cheese Empanadas
1 box puff pastry, defrosted or homemade
1 tablespoon Dijon mustard, approximately
¾ cup Manchego or gruyere cheese, grated
¾ cup Serrano or Black Forest ham, chopped
1 egg whisked with a little water
Preheat oven to 400°. Line two baking sheets with parchment paper and set aside.
Roll out dough* and using a round cutter, cut shapes in 3" rounds.
Spread with a small amount of mustard and sprinkle half the dough with ham and cheese leaving a 1/4" border around the edge of the dough. Brush the edge of the dough with water, fold over and crimp edges with a fork. It's best to freeze the empanadas and cook from a frozen state. Freeze individually on a baking sheet and then store in a freezer tight bag. If you don't have time to freeze then bake, refrigerate them until they are very cold, about 1 hr.
Brush the egg/water mixture over top of the dough and bake for 15 min or until crust is lightly browned. If baking from a frozen state it may take 25 minutes to baking.
*Keep puff pastry as cold as possible, if dough begins to stick return to the refrigerator until cold and then continue with recipe.