Chef Debbi returns to the Rancho! We've been waiting a long time to bring our classes back to Rancho los Alamitos. We've schedule our first class for Sat. June 8th, we're going to pickle!

Saturday, June 8, 2019
9:30 am – 12:30 pm
$75 Future member/ $65 per RLA member
Advance Reservations Required,  Reservations close 5/27/19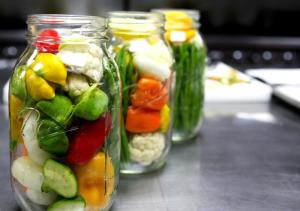 Join us at Rancho Los Alamitos for a hands-on class on the basics of pickling and fermenting vegetables from your garden or the farmers' market. In this class, you will make two kinds of pickled vegetables and a jar of sauerkraut. (If you think that you don't like sauerkraut, wait until you try your own!) This is a refrigerator-style pickling where no water bath canning is necessary. Chef Debbi will demonstrate techniques, discuss food safety and the basics of canning pickles in brine. Each participant will prepare and take home three jars of their very own preserved produce.
The class is suitable for adults and interested teens. Reservations are required. Parking is limited at Rancho Los Alamitos, so car-pooling is encouraged and appreciated.
Sponsored by