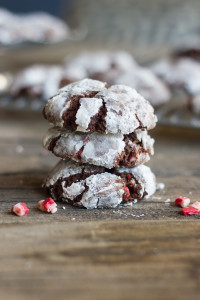 Chocolate-Peppermint Crunch Cookies
Makes about 36 cookies
This is not an original recipe but I'm not exactly sure where or when I started making these delicious cookies. I apologize for not giving credit to the creator!
1 1/2 cups all-purpose flour
1/2 cup unsweetened cocoa powder
2 teaspoons baking powder
½ teaspoon salt
¼ cup chopped walnut pieces, optional
¼ cup crushed peppermint pieces, optional*
8 tablespoons (1 stick) unsalted butter, softened
1 cup packed light brown sugar
2 large eggs
8 ounces bittersweet chocolate, melted and cooled*
1 teaspoon peppermint extract, or vanilla
1/2 cup granulated sugar
1 cup powdered sugar
In a medium bowl, whisk together the flour, cocoa powder, baking powder, and salt. Add the chopped walnuts and peppermint chips, stir to distribute well.
In the bowl of a stand mixer, fitted with the paddle attachment, or in a large mixing bowl, cream the butter and brown sugar until light and fluffy, about 3 minutes.
Add the eggs and vanilla, and beat until completely incorporated. Add the melted chocolate and beat until completely incorporated. Gradually fold in the flour mixture until just combined.
Chill the dough for at least 2 hours until firm, or up to overnight.
Remove the dough from the refrigerator. Preheat the oven to 350°F. Line a baking sheet with parchment paper or a silicone baking mat.
Place the granulated and powdered sugar in separate small bowls. Scoop 1 tablespoon of the dough, form into a ball, and place on a plate. Repeat with the remaining dough.
Roll each ball in granulated sugar and then in powdered sugar to coat. Place on the baking sheet 2 inches apart. Bake for 10 to 12 minutes, until the cookies begin to spread and the tops split. Remove from the oven and cool for a few minutes on the baking sheet, then transfer the cookies to wire cooling racks. Let the baking sheet cool, and repeat with the remaining dough.
Cookies will keep in an airtight container for about one week.
*To melt the chocolate, place in a microwave safe bowl and heat for 30 seconds, stir, and heat at 10 second intervals until melted, stir occasionally.
*To crush peppermint pieces, place several candy canes or peppermint candies into a freezer type bag and crush with a meat pounder or rolling pin.