Hatch Chile Time!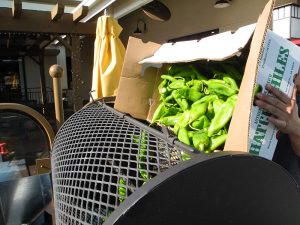 New Mexico Hatch Chiles are here in Southern California and we've been waiting all year to replenish our supplies! These chiles are only here for a short month or so before being gone again until next season. A favorite Southwestern chile, the Hatch chiles are grown in Hatch, New Mexico where everyone celebrates their harvest. Roasters are going hot on every street corner and people are buying them by the case.
Here in So. California, Melissa's Produce brings us these gorgeous chiles in mild and hot, buy both! Melissa's has teamed up with several local grocery stores to provide roasting your chiles by the case. Click on the Hatch Chile Roasting link and it will take you to a list of roastings by Melissa's Produce.
Try Hatch Chile's in all your dishes, from omelets to soups, stews, Chile Verde and even maybe a Hatch Chile Sorbet, mmmmm. Click here for one of my favorite recipes.The list is endless! Chef Ida will be signing copies of Melissa's new 'Hatch Chile Cookbook' at certain locations, check the roasting list. Get yours while you can. I'll be at the roasting at Lazy Acres in Long Beach on Bellflower Sat, Aug 12th & Bristol Farms Sept 2nd

 &

; will I see you there?