This recipe is great as a side dish, an appetizer or a light lunch with a salad. It's easy to make, most of it can be done ahead of time and assembled just before baking. Be sure to use a quality puff pastry dough such as Dufour's which is made with 100% butter and no preservatives. It's a little more expensive but if you want real puff pastry, this is it. Be sure to keep the dough refrigerated and if it warms up a little while you are rolling it out, pop it back in the refrigerator until cold. It won't puff correctly unless the dough is as cold as possible into a hot oven. Be creative and add some chopped (blanched) asparagus to this, it's a perfect spring time recipe. Enjoy!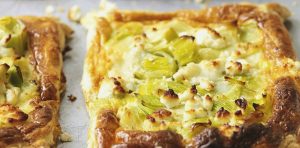 Leek and Goat Cheese Puff Pastry Tart
1 cup baby leeks, sliced thin
1 tablespoon unsalted butter
2 tablespoons extra-virgin olive oil
Sea salt
1 teaspoon finely chopped fresh thyme
1 box (14 ounces) frozen puff pastry, such as Dufour, thawed
1 large egg beaten with 1 tablespoon water
1/4 cup Nicoise olives, pitted
6 ounces goat cheese, room temperature
Rinse leeks well, and drain; set aside.
Melt butter with oil in a medium sauté pan over medium heat. Add leeks and sprinkle with salt; cook, stirring occasionally, 5 minutes, cook until translucent and soft, add thyme. Leeks can be refrigerated in an airtight container up to 1 day; bring to room temperature before assembling tart.
Cut or roll out pastry to a 6-by-14-inch rectangle; place on a parchment-lined baking sheet (reserve remaining pastry for another use). Score a 3/4-inch border. Brush with egg wash; sprinkle with Parmesan. Refrigerate 30 minutes.
Preheat oven to 375°. Bake pastry until light brown; remove from oven, and press center area with spatula. Using an offset spatula or a spoon, smear the pastry with the cheese within the border, add leeks and olives, and bake until crust is golden brown, about 10 minutes. If bottom is soft, bake 3 to 5 minutes more.
Remove tart from oven place tart onto a wire rack; let cool slightly. Cut into pieces; serve warm or at room temperature (tart can stand at room temperature up to 1 hour).
Olive Magazine Photo