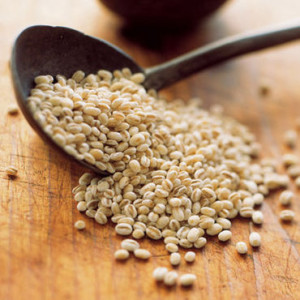 Beef Barley Soup
The flavor of this soup relies on using a good and flavorful beef stock. Read the label to make sure it's not over salted. Or you could try making a batch of your own!
1 tablespoon olive oil
1 tablespoon unsalted butter
1 pound beef stew meat or
1 ½ cups leftover beef, chopped or shredded
Sea Salt and ground pepper
1 cup pearl barley, cooked*
1 small leek, diced
1 large carrot, peeled and diced into bite sized pieces
1 medium stalk celery, peeled and diced as you did the carrots
1 medium onion, diced similar size to carrot and celery
4 cups good beef stock
Heat the olive oil and butter in a Dutch oven or pressure cooker**.
Season the meat with salt and pepper and brown in batches, don't crowd the meat or it will steam and not brown. Remove the meat and set aside. If using already cooked meat skip this step and jump ahead.
Add a little more olive oil to the pan if necessary, add the vegetables and cook over medium heat, stirring occasionally, until the vegetables soften, about 5 minutes.
Add the stock and bring to a boil. Lower the heat to a simmer and cook for 1 hour.
Add the barley and the reserved meat; simmer the soup for another 15 or 20 minutes, until the barley is tender. Season with a little salt and pepper if needed and enjoy.
To cook barley, bring 4 cups of water to a boil and add the barley. Simmer uncovered for 30 minutes, drain, and set aside.
**To pressure cook the soup: After browning the meat, add the stock and barley to the pan, place the lid on the pressure cooker, bring to full pressure and cook for 10 min. I let the pressure cooker naturally release pressure before continuing.
Add vegetables and return to pressure over high heat. Cook 15 minutes and let pressure release. Season to taste with salt and pepper.
Barley photo credit, Fine Cooking.  To read about barley follow this link, Fine Cooking-Barley