Easier than pie recipe for seasonal sweets. Great on the buffet table, to take to a pot luck or just for an afternoon snack.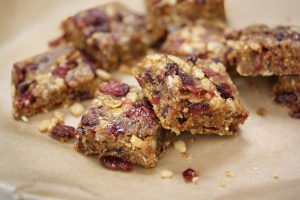 Pumpkin-Cranberry Bars
My aunt-in-law gave me this great recipe and I've adapted it by adding cranberries and powdered sugar frosting; although the bars a great without a frosting too!
1 cup flour
1 teaspoon baking powder
½ teaspoon baking soda
1 teaspoon baking spice (nutmeg, cinnamon, cloves etc.)
½ teaspoon salt
1 cup dried cranberries or other dried fruit
2 eggs
¾ cups sugar
½ cup canola oil
1 cup pumpkin puree
Frosting:
1 cup powdered sugar
½ teaspoon vanilla
1 tablespoon milk
Preheat oven to 350 °.
Sift together flour, baking powder, baking soda, baking spice and salt. Stir in cranberries; set aside.
Using an electric mixer beat together eggs, sugar and oil; add pumpkin puree and mix until just blended. Add dry ingredients and mix until combined.
Spread mixture into a 9 x 11" pan and bake for 15 to 20 minutes.
Frosting:
In a small bowl, add powdered sugar and vanilla. Drizzle in milk, stirring until you have a smooth mixture.
Cut the bars and place them on a cooling rack over a piece of parchment paper. Drizzle with the powdered sugar frosting and let set for a few minutes.
You can purchase a baking spice from Penzeys, you won't regret it. Replace all your ingredients, nutmeg, cinnamon etc. with the baking spice for an extra special flavor!