Cooking from the Pantry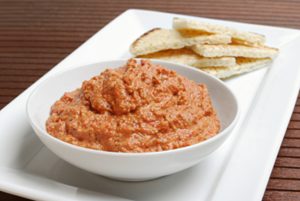 An easy roasted red pepper dip for any occasion. Quick and easy to prepare; serve with pita bread, cocktail bread or any cracker.
1 cup walnuts -- toasted
1 slice Italian bread -- torn into pieces
1 cup red peppers -- roasted
2 tablespoons extra virgin olive oil
2 tablespoons pomegranate molasses
1 tablespoon tomato paste
1 teaspoon kosher salt
1 teaspoon ground cumin, or to taste
1/2 teaspoon Aleppo pepper -- ground or Hungarian paprika
1/2 teaspoon sugar -- optional
pita bread -- sliced into wedges
Place all ingredients into a food processor or blender and puree into a
smooth paste, stopping occasionally to scrape down the sides. Refrigerate
if not serving immediately. Let come to room temperature before serving.
Serve with pita wedges.