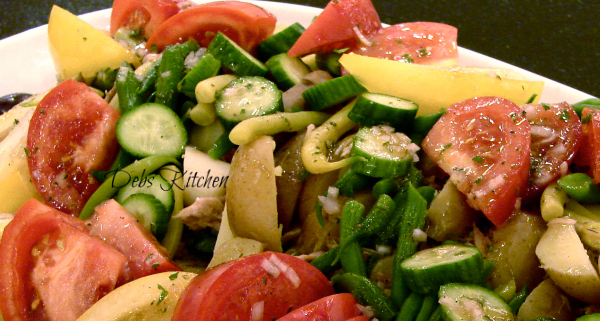 My summer pantry is usually a little lighter than my winter pantry as I use far more fresh ingredients, mostly from my kitchen garden. The French Nicoise Salad is one of my favorites and I like using whatever fresh veggies I find at the local farmers market or in my garden. As in most cases, the quality of ingredients that you use are directly reflected in the finished dish, therefore buy the best that you can afford. I use Italian tuna in olive oil; I love the Genova brand from Italy. Please don't use all white tuna packed in water, as it has no flavor, better to leave it out. I drain most of the oil from the canned tuna, reserving it for use in making the salad dressing.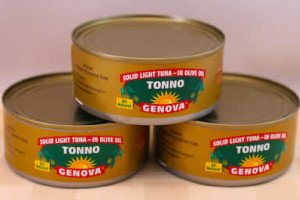 Another way to dress up the dish for a hot summer evening entree is to grill some fresh tuna or shrimp from your fishmonger. This recipe makes a beautifully plated salad for a buffet table but can be individually plated as well. Be creative and use what you have on hand.
Summer Nicoise Salad
This salad is great for adapting to whatever you find in your pantry and/or refrigerator. Left over vegetables from last night's dinner work great; keep your pantry stocked with jars of olives, tuna, hearts of palm, baby corn or a myriad of other staples. Change the tuna; use bay shrimp, scallops, last nights chicken or steak. A great salad to stretch your creative talents!
Vinaigrette:
1/4 cup red wine vinegar
1 tablespoon Dijon mustard
1 small shallot -- minced
1 tablespoon Italian parsley -- chopped
Salt and pepper -- to taste
3/4 cup olive oil, use drained oil from tuna and add more olive oil as needed
Salad:
2 cans Italian tuna -- packed in olive oil, drained and flaked with a fork
Salt and pepper -- to taste
1/4 pound haricot vert -- blanched, cooled and dried well
4 new potatoes -- boiled
2 medium plum tomatoes -- cut into quarters
3 eggs, cooked~see recipe
1/2 cup nicoise olives
3 cups mixed baby greens
Make the vinaigrette:
In a large bowl make the vinaigrette by whisking together the vinegar and
Dijon mustard. Add shallot, parsley and salt and pepper. Drizzle olive oil, while whisking into vinegar mixture. Re-season if necessary.
Blanch the beans in boiling salted water, drain, and chill.
Cook the potatoes in salted water just until they are tender through, about 15 minutes. Drain. Peel them, if desired, as soon as they are cool enough to handle.
Hard boil eggs by covering eggs with cold water, bring to a boil, remove from heat, cover and time for 15 minutes, plunge into ice water and chill.
Drain tuna, leaving a small amount of oil clinging to fish, and reserving drained oil, flake tuna into a medium mixing bowl.
Toss mixed greens with enough vinaigrette to coat. Season with salt and pepper.
Plate salad by putting a mound of tuna in the center of the mixed greens and surround with remaining ingredients, drizzle a little dressing over vegetables and serve extra dressing on the side.
Save any remaining vinaigrette and store in glass jar, refrigerated for up to 4 weeks.