Fudgy, chewy, mild or hot…..a delicious treat!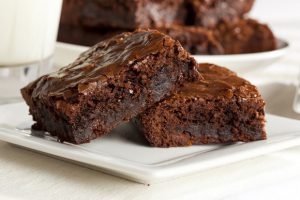 Hatch Chile Brownies
1 cup flour
¾ cup Dutch cocoa powder
2 cups sugar
¼ teaspoon salt, use ½ teaspoon if using unsalted butter
2 teaspoons Hatch chile powder
¼ teaspoon baking powder
3 lg. eggs
½ cup butter, melted (8 Tb)
¼ cup olive oil
2 teaspoons vanilla
Preheat the oven to 375° and lightly grease a 9x13 pan.
Add all the ingredients to a large bowl in the order they are listed. Stir together and beat until the mixture is smooth.
Spoon into the prepared pan and bake 25-30 minutes, or until just barely beginning to pull away from the sides of the pan, remove from oven and let cool.