Cooking at Fullerton Arboretum
New Events!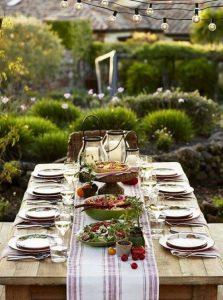 Celebrating the seasons around the table with demonstration style cooking class and a specialty food tasting each month.
Join my friend Chef Louise Mellor and I in the beautiful gardens at Cal State Fullerton's Arboretum for a meal as we celebrate the seasons.  Learn how to stock your pantry and together we'll use garden fresh, seasonal ingredients with classic French techniques to create simple, exciting dishes for special occasions and everyday meals.
We will also be sharing how to entertain with simplicity and style.  Most importantly, we hope you will be inspired to get into the kitchen at home and share life around the table.
Full lunch servings will be offered and wine will be available if desired. Here are upcoming classes for Jan, Feb and March, take a look here for class registration and the schedule through summer! Hope to see you there~
Saturday, Jan. 21, 11 – 2
Book Signing and Demo
Soup from the pantry
Join us for a demonstration on soup basics and enjoy a hearty bowl of minestrone soup with puff pastry 'rolls'.
February 11th, Saturday, 11 – 2
Cupid in the kitchen…
Chocolate Tasting
Roasted Spring Asparagus salad with Meyer Lemon vinaigrette
Elegant Beef Wellington Puff Pastry Tarts with Caramelized Onions, Maytag Blue Cheese, Sautéed Mushrooms
Dark chocolate hazelnut flourless cake with vanilla bean ice cream and fresh berries
March 25th Saturday, 11 – 2
I left my heart in San Francisco…
Olive oil tasting
Homemade herbed ricotta with lemon, Parmesan & blistered tomatoes served on sourdough crostini
San Franciscan style Cioppino with fresh seafood in a rich tomato white wine broth.
Blood orange olive oil cake with whipped Grand Manier marscapone